What is an Employment Pass?
An Employment Pass or EP is a Singapore work visa issued by Singapore's Ministry of Manpower (MOM) to foreign professional executives, managers, and specialist. This work visa allows you to live and work in Singapore, as well as travel in and out of the country without having to apply for entry visas.
An Employment Pass is usually valid for 2-3 years and can be renewed after. Possessing an EP also makes it easier for you to apply for permanent residence (PR) in Singapore.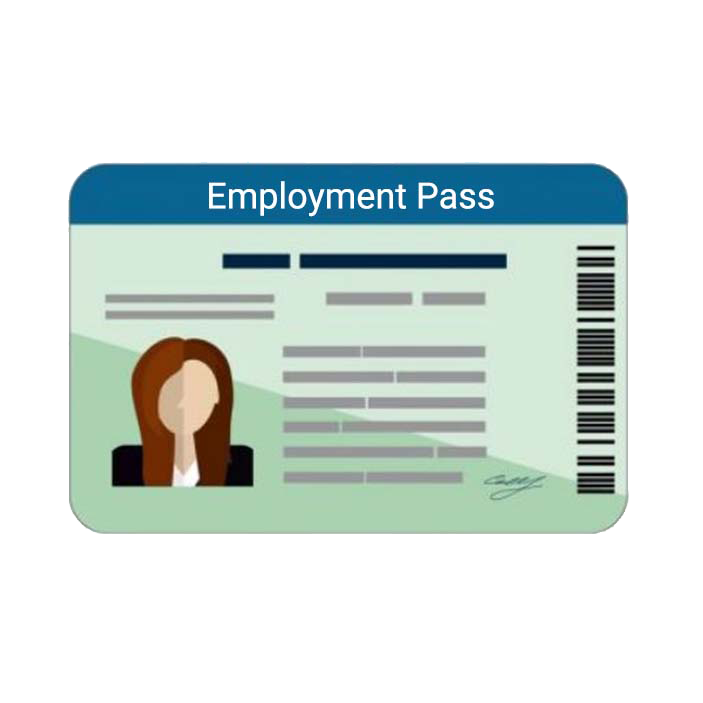 How Do I Know If I am Qualified For An Employment Pass?
The minimum requirements to qualify for a Singapore Employment Pass:
All nationalities can apply for a Singapore Employment Pass
You must have a job offer in Singapore
The position is a managerial, executive or specialist role
You must earn a fixed monthly salary that is set by MOM Singapore (More experience candidates are required to have commensurately higher salaries)
Possess a good university degree, professional qualifications or specialized skills
Do note that these are general guidelines – the authorities review all Employment Pass applications before approval is granted.
What Is Required To Apply For An Employment Pass?
An EP Application Form 8, duly endorsed by the employing Singapore company
A copy of your latest resume
A copy of your educational certificates, e.g., Degree Certificate, Diploma Certificate, etc.
References/testimonials from previous employers
A passport-size photograph of yourself, taken within the past three months
A copy of the personal particulars page of your valid passport
A copy of the business profile of the employing Singapore company
A detailed description of your job duties
Beside the eight documents described above, you may have to supply additional supporting documents as needed and required by MOM. You will also need to have any non-English documents officially verified and translated into English.
How & Where Do I Submit My Application?
Applications must be filed by an authorized corporate service provider with an Employment Agency license or by the sponsoring company. Online applications are usually processed within 3 weeks from the date of submission.
You may also submit a manual application, which allows for the attachment of all supporting documents (which cannot be done online). Manual applications are usually processed within 8 weeks from the date of submission.
The overall processing time of your application may vary by several days or weeks.
How Do I Renew My Employment Pass?
You can apply to renew an Employment Pass up to 6 months before the pass expires. The renewal application should be completed and submitted to MOM at least eight weeks before your EP expires.
Remember to apply for renewal early. Renewing early does not mean that you will lose the remaining days in your current pass. The duration of the renewed pass will start when the current pass expires.
You can apply for a renewal request by submitting an Online Assessment on our RedDot Passes website.
Can I Bring My Family To Live With Me In Singapore If I am an EP Holder?
You can, if you draw a minimum fixed monthly salary of S$6,000.
Spouses and children of Employment Pass holders can apply for a family visa known as a Dependant's Pass (DP) after the approval of the EP.
Legally married spouses and unmarried children under 21, including those legally adopted will be eligible for a DP under EP holders.
Common-law spouses, unmarried handicapped children (above 21 years old), and unmarried step-children (under 21 years old) of EP holders can apply for a long-stay visitor visa known as a MOM-Issued Long-Term Visit Pass (LTVP).
Parents of EP holders can also apply for MOM-Issued LTVP but only for EP holders earning at least S$12,000 a month.
Apply For Work Visa in Singapore
For a smooth and hassle-free work pass application, consider getting expert advice and consultation. You may contact us at contact@rdpass.com.sg or visit our website for advice on the most suitable work pass and assistance for an easy application.